Market Update
How will a Trump Presidency affect commercial real estate? Pundits Weigh in.
"A Trump presidency, and Republican-controlled federal government, shouldn't slow the positive momentum that commercial real estate is enjoying today." - Dan Rafter, REJournals.com
"There will no doubt be a short-term stimulous to the economy...Inflation will likely kick a bit higher from a faster GDP growth and that will lead to modestly higher interest rates." - Lawrence Yun, Forbes
The changes of a Fed Rate Hike in December Have Gone Down" - National Retail Estate Investor
"If Trump Gets His Way, Real Estate Will Get Even More Tax Breaks" - The New York Times
Industry Soundbites
How will a Trump Presidency affect commercial real estate? 2016 QSR Drive-Thry Performance Study QSR's 2016 Drive Thru study looked at 15 of the top quick service and fast casual chains and how they are performing in their outdoor "Drive thru" lanes. They captured 1,958 drive thru visits from leading chaings including Arby's, Burger King, Carl's JR., Chick-fil-A, Dunkin' Donuts, Hardee's, KFC, McDonald's, Panera Bread, PDQ, Pollo Tropical, Starbucks, Taco Bell, Taco Cabana, and Wendy's. Here's how they performed: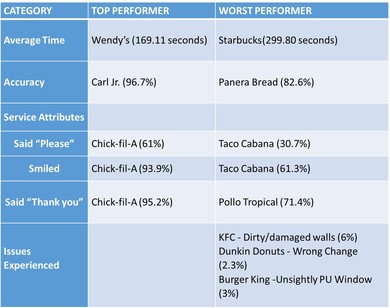 These are selected benchmars. Other benchmarks were used. For more information on the study, go to QSR 2016 Drive Thru Study.
Upligting performance for Dollar Tree/Family Dollar With a net income of $171.6 million (or 72 cents a share), Dollar Tree reported a third quarter profit that was double last year's...Read more
Amazon to open 20,000 grocery stores across the U.S. Amazon "wants to be a more serious player in the grocery business, and to acheive that, it believes it can't rely on e-commerce alone,: reported The Washing Post....Read more
Arby's Inks Deal to Open 50 New Restaurants A development argument has been reached between Arby's Restaurant Group and a new franchise Parikh Network, LLC. The company was started by two brothers ten years ago and is now the 76th largest franchie company according to Franchise Time' Restant 200 list...Read more
Convenience drivers dine to order delivery, survey says A mintel report found that 63% of food delivery customers believe that ordering takeout is more convenient that dining out with their families and cited not having to leave their home as the top reason they choose delivery. Millennial men living in cities are the top users of delivery services, and more than one-third of users surveyed said they order delivery at least twice a week...Read more
Hudon Yards is largest private real estate project ever in US The 17 million SF mixed-development is also New York's largest construction project since the Rockfeller Center. Delivery is expected in 2025. Hudson Yards will accomodate 125,000 people...Read more