Market Update
Cost Segregation on STNL Properties Puts Thousands Back in Your Pocket Potential Savings of $20K-300K in Taxes with Accelerated DepreciationIM
Cost segregation (cost seg) is a powerful tax planning strategy for Investors who own buildings or Tenants who lease, but paid for their own tenant improvements. Savings varies by property type, but the savvy investor can often save $20,000-$300,000 in the first year by taking advantage of cost seg. This approach, following a cost seg study, is used to accelerate depreciation deductions, and can result in significant tax deferrals and increased cash flow.
WHAT IS COST SEG?
Today, most commonly, a commercial building is depreciated over a statutorily defined 39-year life with no acceleration. However, tax laws allow some assets to be moved to shorter lives. For example, plumbing to the bathroom is depreciated over 39-year life, while the sink plumbing in each patient room of a medical building is depreciated over 5-years and may qualify for bonus depreciation too. Certain flooring has a 39-years life (ceramic tile), while other flooring can be depreciated over 5-years (carpeting, vinyl). Land improvements have a 15-year depreciable life (parking lots, curbing, retention ponds, certain signage, parts of pole lights, sidewalks, etc).
HOW DOES COST SEG WORK?
Cost seg starts with a cost segregation study. It is based on a detailed engineering analysis, which identifies costs that can be allocated to shorter recovery periods of primarily 5- and 15-year, as opposed to 39-year. This process identifies all costs within a property that qualify for faster depreciation. For every $100,000 moved from 39-year to 5-year, the cumulative 5-year present value (PV) of the after-tax savings (at 40% cumulative tax rate and 5% discount rate) is $30,000. Due to recent tax changes, savings may be even higher, depending on the year the asset went into service. Hence, taking advantage of cost seg can really make a difference and lead to tax savings!
EXAMPLES OF SAVINGS FOR STNL PROPERTIES*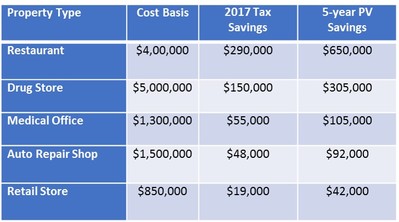 *Sample results for illustrative purposes only. Properties acquired in June 2016. 2017 savings based on a 39% tax rate. 5-year PV savings based on a 39% tax rate and 6% discount rate.
DOES MY PROPERTY QUALIFY?
Properties acquired, constructed, or renovated as far back as 1987 are eligible for savings—with no need to amend tax returns. It is important to note that a cost seg study does not increase depreciation, it accelerates it. The bottom line is the taxpayer benefits from having more cash in hand now that can be put to work in other ways. By the way, cost seg is a court-tested legal method to save tax dollars!
For more information, contact: Debbie Rodkin drodkin@bedfordteam.com at Bedford Cost Segregation, 404.643.9456
Industry Soundbites
The Top 10 Cities Americans Are Moving to...
According to a study conducted by Penske Truck Rental, Atlanta retains its Number One spot as the city that the greatest number of Americans are moving to. The city has a median household income of $60,219 a year and median apartment rent of $1,574 a month. Read more.
The 5 C-Store Chains with the Cleanest Restroom
According to data from the National Association of Convenience Stores, nature calling is the most frequent reason American drivers stop (72%) and Technomic's Consumer Brand Metrics program reveals the c-store chains that rank the highest for restroom cleanliness. Chief among them? QuikTrip...Read more
Burger King owners buys Popeyes
Restaurant Brands, the owner of Burger King and Tim Hortons, will acquire Popeyes in a $1.8 billion cash transaction. Read more
BP Takeover Rumor Strikes Again
Rumors have resurfaced yet again of a BP takeover, this time focusing on Exxon Mobil Corp. as the aggressor, according to a report by the Evening Standard. A successful deal would be the biggest oil takeover of all time, but one that would most likely face opposition from the government, the newspaper said. ExxonMobil has been sounding out BP's major shareholders to gauge their interest in a potential takeover, the report said. The two companies have several top shareholders in common, including BlackRock and Vanguard.
The plot thickens …Royal Dutch Shell, based in The Hague, Netherlands, is supposedly ready to swoop in with a bid of its own to save the day and keep BP on British soil if Exxon makes an approach, said the report. Other interested parties are said to include San Ramon, Calif.-based Chevron Corp. Read more